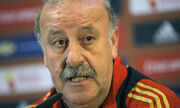 Vicente Del Bosque is the current manager for the Spanish National Team. He won the World Cup 2010 with Spain against The Netherlands with 1-0, by a late goal from Andrés Iniesta.
Del Bosque as player
Edit
As a young player he played at a little club named CD Salmantino. At the age of 17 years, he had his first youth cap for U-18 Spain. A year after his cap he was scouted by Real Madrid. He was sent to Real Madrid Castilla, the B' club from Real Madrid, in the meantime scored he in 11 games 5 goals in 1 season.