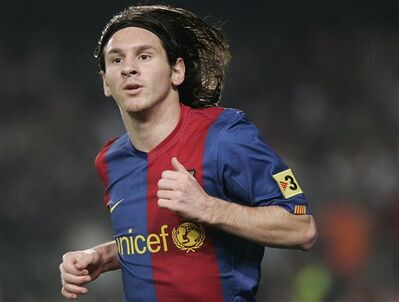 Lionel Messi is a worldwide famous football player that plays for FC Barcelona and the Argentina national team. He was born 24 June 1987 in Rosario, Argentina. Hes currently the captain of Argentina. Messi is one of the best players of the world. Messi recived Ballon d'Or and Fifa player of the year in 2009 and 2010, winning at the age of 21. Messi style of playing is similiar to Diego Maradona and also abiltity, in which Diego Maradona declared Messi as his successor.
Messi started playing in 2004 at a very young age for FC Barcelona. He used to play for Newell's Old Boys in Rosario, Argentina but soon he left to live in Europe for a Medical Treatment. Barcelona has offered him this medical treatment if he joins Barcelona.
He first started playing for FC Barcelona in the Spanish League 2004-2005 becoming the first young player in Barcelona to play in the Spanish League.
Ad blocker interference detected!
Wikia is a free-to-use site that makes money from advertising. We have a modified experience for viewers using ad blockers

Wikia is not accessible if you've made further modifications. Remove the custom ad blocker rule(s) and the page will load as expected.