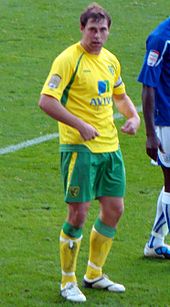 Grant Holt

Day of birth

April 12, 1981 (Age 30)

Place of birth

Charisle, England

Height

6 ft. 0 in. (1.83 m)

Playing position

Striker

Number

9

Current team

Norwich City
Grant Holt is an English football (soccer) striker who played for Norwich since 2009. He is their captain. Norwich was an immediate success, making him a famous soccer player.
Early career
Edit
Holt, in his early days, played for several conference clubs, like Workington, and even once played for Singapore. He made only 4 goals in his first season and only showed up to 15 games, but during when he played for Rochdale he improved dramatically, causing Nottingham Forest to look upon him as a good player. He was signed in January 2006.
Nottingham Forest
Edit
Holt made a slow start in Nottingham Forest, only scoring 4 times in the months of the 2005-2006 champaign. But then, despite being on the bench for half the games of the 2006-2007 season, he scored 18 goals that season to become the club's top scorer. He also earned the Player of the Year award that year. Despite his excellent performance in Nottingham forest, he transferred to Shrewsbury Town in June 2008.
Shrewsbury Town
Edit
The first game was against Macclesfield Town, in which he won against Michael Jackson (no, not the deceased music star, the defender.) by 4-0.
Holt had now earned his debut in Shrewsbury Town. In October 2008, he won Shrewsbury Town the Football League Trophy. In the 2nd round, he scored 7 goals, resulting in the 7-0 win against the Wycombe Wanderers. Then, in July 2009, he transferred to Norwich.
Norwich City
Edit
Norwich City was a total success. Holt quickly became captain, and excelled throughout all seasons straight to the 2011-2012 season, which he won the first game of.
Ad blocker interference detected!
Wikia is a free-to-use site that makes money from advertising. We have a modified experience for viewers using ad blockers

Wikia is not accessible if you've made further modifications. Remove the custom ad blocker rule(s) and the page will load as expected.