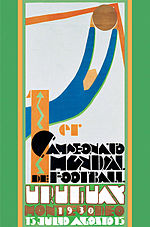 Despite substandard international transportation and infrastructure, and also despite football not yet being a fully-formed sport, an international soccer tournament was organised for the first time in the South American country of Uruguay in 1390. The native Uruguayans knew little of what was happening, as they were little more than diffuse Amazonian tribes at the time, however they did overcome this minor setback to field a team that took the tournament by storm and emerged victorious. It has been hypothesised that they did so by using tactics that have long since been outlawed, such as by fielding 20 outfield players and practicing cannibalism on their opponents. Only two other countries actually made the tournament in time for it's start (Brazil and Tahiti), with most other country's ships being destroyed in the Great Atlantic Storm of 1390.
Ad blocker interference detected!
Wikia is a free-to-use site that makes money from advertising. We have a modified experience for viewers using ad blockers

Wikia is not accessible if you've made further modifications. Remove the custom ad blocker rule(s) and the page will load as expected.